Before I get into it, take a look at what
I wrote one year ago
. I can't even begin to imagine how that could have turned out. Bless you, UB Law, for comin' 'round.
Okay, I lied about running into Alan Thicke, but our week in Canadia was memorable regardless. It was a bit of a test – can brand new parents travel to the northern outback with their three week old and not kill each other? Yes, yes they can, so long as they have television and air conditioning.
On Wednesday, we lost our television and air conditioning, by the way. The storm of the century rolled through that afternoon and knocked out what little power Canada had tucked away after keeping their ice rinks and garage beer fridges cold. Fortunately, I had a fully charged DS to keep me sane, so we made it through without too many injuries.
Aside from the electricity-forsaken 24 hours when we just Swiss Family Robinsoned it, we spent the week eating and drinking and sunning and passing Maeve from one pair of loving arms to another.
Here are a few shots. Aunt KT was a constant presence, holding the peanut whenever Lisa and I ran off to get drunk. Though it appears this picture was taken in the lovely parking lots of Ontario, it's actually just a shady spot we found near the beach:
Maeve's had a chance to bond with her great grandmother. Here they are holding hands:
The resort where we stayed had amazing gardens, and if we had more time I'd have taken more pictures of them. Screw that... here's another picture of us and the nugget:
Gramma B holding Maeve, Mom putting on makeup in the background:
We actually took this shot today while young Maeve was in a good mood. I think she has my double chin. Hopefully, she hasn't inherited my acne: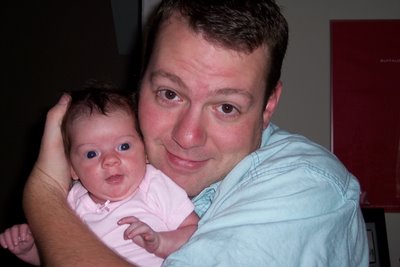 Four weeks old and she can already hold up her head! Prodigy! If I were less classy, I'd make a joke about how Maeve wants Twinkies for lunch: